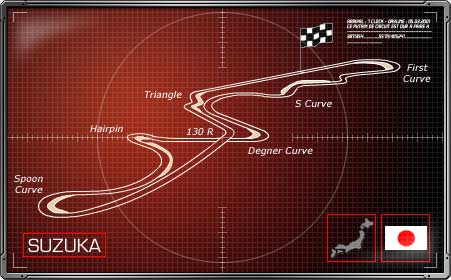 Track Info:
Past 15 years Winners:
Length: 5.864 km

Nb of Laps: 53 (310.596 Km)

Best Lap:M. Schumacher - 1'36''125 (2002, Ferrari)

Record Pole:M. Schumacher - 1'31''317 (2002, Ferrari)

2002 Pole:M. Schumacher - 1'31''317 (Ferrari)

2002 Podium:M. Schumacher - R. Barrichello - K. Raikkonen

Informations:
Suzuka Circuitland / SMSC
7992 Ino-cho, Suzuka-shi
Mie 510-0295 - Japon
Tel: +81593 78 1111
Fax: +81593 70 3603
2002 : M. Schumacher (Ferrari)
2001 : M. Schumacher (Ferrari)
2000 : M. Schumacher (Ferrari)
1999 : M. Hakkinen (McLaren)
1998 : M. Hakkinen (McLaren)
1997 : M. Schumacher (Ferrari)
1996 : D. Hill (Williams)
1995 : M. Schumacher (Benetton)
1994 : D. Hill (Williams)
1993 : A. Senna (McLaren)
1992 : R. Patrese (Williams)
1991 : G. Berger (McLaren)
1990 : N. Piquet (Benetton)
1989 : A. Nannini (Benetton)
1988 : A. Senna (McLaren)



Suzuka is a very tough and technical circuit, with enormous crowds. It has been a huge event since 1987 when the Japanese Grand Prix was reinstated to the calendar, due to Honda's successful return, this time as an engine supplier. In the shape of a figure eight, Suzuka has a variety of fast and slow corners. It is loved by all the drivers, although overtaking was made virtually impossible when the chicane before the pits was tightened in 1991, spoiling the best passing opportunity that had been at the end of the main straight. The 1987 race will be remembered best for the practice accident that dashed Nigel Mansells' title hopes. 1988 saw Senna take the win from a very bad start, and the following year, he collided with his McLaren teammate, Alain Prost, when battling for the lead. Although Senna crossed the line first, he was later disqualified, handing the win to the Benetton of Alessandro Nannini.

1990 saw Prost and Senna tangle again, although they were now in different teams. Senna took the title, later admitting that he deliberately caused the accident that took Prost out. Riccardo Patrese won his last Grand Prix here in 92, after Nigel Mansell retired. Senna won again in 93, dominating a wet/dry race, and afterwards he made headlines by punching newcomer, Eddie Irvine after a dispute on the track.The 94 race was spectacular. Rain struck, and with a string of accidents, it saw a pace car, and a stoppage. After the restart, Damon Hill overcame Michael Schumachers advantage, to score perhaps the hardest earned win of his career.

Damon Hill took an emotional win that lead to him clinching the title here in 1996, with Michael Schumacher winning in 97. Hakkinen took the win for McLaren in 98, where once again the world title was decided in Japan. The Finn walked away from Japan like Hill did two years before him, with his first championship title, an event he recreated in 99.

2000 was a special event for millions of fans around the globe as they watched Michael Schumacher take the win and with it the first drivers crown for Ferrari in 21 years. The German was ecstatic and the crowd went wild as the Ferrari ace crossed the line to become the 2000 Formula One World Champion. That makes it four world titles that have been won here in the past five years.