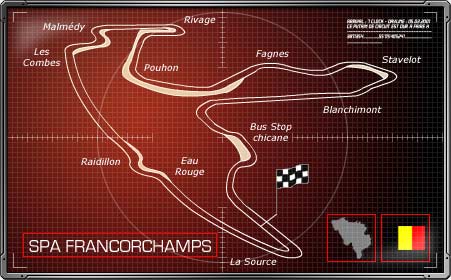 Track Info:
Past 15 years Winners:
Length: 6.968 km

Nb of Laps: 44 (306.592 Km)

Best Lap: M. Schumacher - 1'47''176 (2002, Ferrari)

Record Pole: M. Schumacher - 1'43''726 (2002, Ferrari)

2002 Pole: M. Schumacher - 1'43''726 (Ferrari)

2002 Podium: M. Schumacher - R. Barrichello - J. Montoya

Informations:
SPA Activities
Route du Circuit 55
4970 Francorchamps - Belgique
Tel: +3287 275 146
Fax : +3287 275 551
2002 : M. Schumacher (Ferrari)
2001 : M. Schumacher (Ferrari)
2000 : M. Hakkinen (McLaren)
1999 : D. Coulthard (McLaren)
1998 : D. Hill (Jordan)
1997 : M. Schumacher (Ferrari)
1996 : M. Schumacher (Ferrari)
1995 : M. Schumacher (Benetton)
1994 : D. Hill (Williams)
1993 : D. Hill (Williams)
1992 : M. Schumacher (Benetton)
1991 : A. Senna (McLaren)
1990 : A. Senna (McLaren)
1989 : A. Senna (McLaren)
1988 : A. Senna (McLaren)





Spa-Francorchamps was first used in 1924, its history long and entwining. Many drivers have won here, with its ever-changing weather conditions, making it a track very hard to master. Jim Clark hated it, yet he won four races in a row, 1962 – 1965. The sun can shine in one section of the track, yet it can be pouring with rain in another.

The danger here was ever present, with young Alan Stacey and Chris Bristow killed in separate accidents in 1960. By 1970, it was obvious that the speeds were getting too fast, so the track was discontinued, not returning again until 1983. This return saw the track distance nearly halved, with the removal of a section that was classed as really dangerous and thereafter it rewarded only the most talented.

Eau Rouge remained the most interesting corner, the scene of many accidents. Alex Zanardi escaped serious injury when he crashed his Lotus there in 93, and in light of the tragic deaths at Imola, 1994 saw a new chicane added, but when run-offs were built in 95, this corner came back into play.

Ayrton Senna won four consecutive races, from 1988 to 1991 and it was the scene of Michael Schumacher's very first victory in 1992. 1993 and 94 saw Damon Hill on the top step of the podium, while Michael Schumacher took the next three consecutive wins.

Damon Hill won again in 1998, creating history in the process. In a rain drenched race that saw two stars due to chaos on the opening lap, Hill lead his teammate home to claim the Jordan teams maiden victory that was twice as special with a one two finish. Michael Schumacher was clearly leading with Hill in a strong second until he came up to the McLaren of David Coulthard that was a lap down. The two collided in the horrific conditions, forcing the Ferrari into retirement and a scene that saw him storm down the pitlane to confront Coulthard.

The sun shone brightly the following year allowing Coulthard to take the win. This was one of the events Schumacher was forced to miss due to injuries sustained at the British Grand Prix, however, in 2000 he was forced to settle for third place while Mika Hakkinen took the honours and the younger Schumacher, Ralf took second.