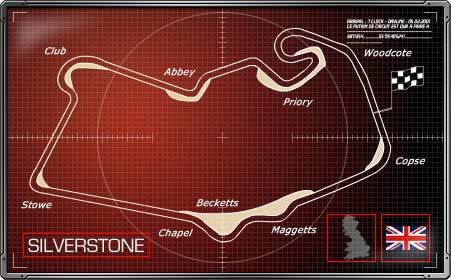 Track Info:
Past 15 years Winners:
Length: 5.141 km

Nb of Laps: 60 (308.289 Km)

Best Lap: R. Barrichello - 1'23''083 (2002, Ferrari)

Record Pole: JP Montoya - 1'18''998 (2002, Williams)

2002 Pole: JP Montoya - 1'18''998 (Williams)

2002 Podium: M. Schumacher - R. Barrichello - J. Montoya

Informations:
MSA - Motor Sports House
Riverside Park - Colnbrook
Slough SL3 OHG - GB
Tel: +441753 681 736
Fax : +441753 682 938
2002 : M. Schumacher (Ferrari)
2001 : M. Hakkinen (McLaren)
2000 : D. Coulthard (McLaren)
1999 : D. Coulthard (McLaren)
1998 : M. Schumacher (Ferrari)
1997 : J. Villeneuve (Williams)
1996 : J. Villeneuve (Williams)
1995 : J. Herbert (Benetton)
1994 : D. Hill (Williams)
1993 : A. Prost (Williams)
1992 : N. Mansell (Williams)
1991 : N. Mansell (Williams)
1990 : A. Prost (Ferrari)
1989 : A. Prost (McLaren)
1988 : A. Senna (McLaren)



The first British Grand Prix was held here in 1948, and it was only meant to be a one off, as the track was originally an airfield. Giuseppe Farina won the first World Championship race in 1950 for Alfa Romeo.

In 1973, Jody Scheckter spun at Woodcote, the right hander that leads into pit straight, triggering a multiple pile up. The track had its first alteration in 25 years due to this, and they added a chicane at Woodcote for the 1975 race. This was also the track that saw Clay Regazzoni give Williams their first win in 1979.

In 1987, a complex at Woodcote replaced the chicane, and that year Nigel Mansell defeated his teammate, Nelson Piquet in one of the tracks best races. The track was rebuilt in 1991, followed by another major rebuild in 1994.

The British fans were overjoyed with Damon Hillís win in 94, with Johnny Herbert winning for Benetton in 95. Williamsís driver, Jacques Villeneuve took home victory in both 96, and 97 while Michael Schumacher won in controversial circumstances in 98 when he took victory for the Ferrari team in pit lane.

1999 saw the German suffer a first lap accident that saw him sidelined until the second last race of the season with a broken leg. The accident that many fans say lost him the 1999 drivers crown. Back in action and raring to go, the German faced the circuit undaunted in 2000, determined not to let memories of his accident the year before deter him from the task at hand. He didnít win the event, Mclaren driver David Coulthard took that honour ahead of teammate Mika Hakkinen, however Schumacher still stood on the podium albeit on the third step.