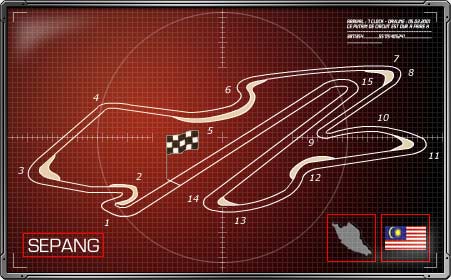 Track Info:
Past 4 years Winners:
Length: 5.543 km

Nb of Laps: 56 (317.408 Km)

Best Lap: J. Montoya - 1'38''049 (2002, Williams BMW)

Record Pole: M. Schumacher - 1'35''220 (2001, Ferrari)

2002 Pole: M. Schumacher - 1'35''266 (Ferrari)

2002 Podium: R. Schumacher - J. Montoya - M. Schumacher

Informations:
Malaysian Motor Sports Clubt
111A Jalan SS 2/24
Sea Park - Petaling Jaya
47300 Selangor - MAL
Tel : +603 777 2788
Fax : +603 777 2588
2002 : R. Schumacher (Williams)
2001 : M. Schumacher (Ferrari)
2000 : M. Schumacher (Ferrari)
1999 : E. Irvine (Ferrari)













With the 1999 Drivers' and Constructors' World Championships wide open for the inaugural Malaysian Grand Prix, it was assured to be one of excitement and high tension. Four drivers were still in with a chance of taking the elusive driverís crown with only 14 points between first and fourth.

The penultimate round of the 1999 season saw the drivers compete at Sepang for the first time, although Malaysia was no novice when it came to Motorsports. They first held a Grand Prix in 1991, at Shah Alam, for Motorcycles, and last year saw the new circuit host its first major event in April, once again for the bikes.

The 5.542 km (3.443 mile) Sepang circuit is situated close to the new Kuala Lumpur International Airport and has been widely hailed as the most up to date racing complex in the world. But for the teams and drivers that participated in the countryís first Formula One race, it represented uncertainty. Only three drivers previously had the chance to drive on the new and unknown circuit and that was only briefly.

The first event saw the return of Michael Schumacher after his accident at Silverstone some months earlier. The German was in top form upon his return and clearly showed the field that he was back. He led the race with ease before handing the win over to his teammate, Eddie Irvine to help the Irishman with his championship hopes. In 2000 it set the scene for further Ferrari victory. The last race on the calendar, Michael Schumacher took the victory with ease after securing the drivers crown the race before. The final win of the season saw Ferrari finish the year with their second successive constructors title.