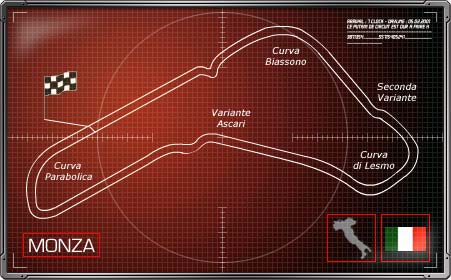 Track Info:
Past 15 years Winners:
Length: 5.793 km

Nb of Laps: 53 (306.764 Km)

Best Lap: R. Barrichello - 1'23''657 (2002, Ferrari)

Record Pole: J-P. Montoya - 1'20''264 (2002, Williams)

2002 Pole: J-P. Montoya - 1'20''264 (Williams)

2002 Podium: R. Barrichello - M. Schumacher - E. Irvine

Informations:
Automobile Club Milano
Corso Venezia 43
20121 - Milano - Italia
Tel: +3902 774 5254
Fax : +3902 760 24641
2002 : R. Barrichello (Ferrari)
2001 : J-P. Montoya (Williams)
2000 : M. Schumacher (Ferrari)
1999 : H-H. Frentzen (Jordan)
1998 : M. Schumacher (Ferrari)
1997 : D. Coulthard (McLaren)
1996 : M. Schumacher (Ferrari)
1995 : J. Herbert (Benetton)
1994 : D. Hill (Williams)
1993 : D. Hill (Williams)
1992 : A. Senna (McLaren)
1991 : N. Mansell (Williams)
1990 : A. Senna (McLaren)
1989 : A. Prost (McLaren)
1988 : G. Berger (Ferrari)



There has only been one year since 1950 when the Italian Grand Prix was not run in Monza. That was 1980 when it took place at Imola. Little has changed with this track over the years. It remains one of the fastest tracks, even with the introduction of chicanes in the 70's, and is therefore very hard on the cars.

Farina won the first World Championship race there in 1950 in his Ferrari, and in 1960, Monza saw the first American win a Grand Prix, namely Phil Hill. In 1961, Hill actually clinched the title at Monza, but only after his teammate, Wolfgang von Trips and 12 spectators were tragically killed in a horror collision. Jackie Stewart had his first ever GP victory at Monza in 1965, and in 1966, Scarfiotti led home a Ferrari one-two.

Once again, tragedy struck Monza in 1970, when Jochen Rindt died during qualifying. The following year saw one of the most spectacular finishes, with Peter Gethin bursting from a pack of five cars to take the win. Ronnie Peterson won in 73, 74, and 76, but sadly, it was also the place of his death in 78, after a pile up at the start.

Damon Hill won in 93 and 94, with Johnny Herbert taking the win in 95. In 96, Michael Schumacher sent the tifosi wild after he claimed the first Ferrari victory on home soil since 1988. David Coulthard took the win for McLaren in 97, followed up by Schumacher again in 98 after securing his first pole of the season.

Jordan driver, Heinz-Harald Frentzen took the victory in 1999, helping the team to secure their third place overall in the constructor's championship, however tragedy marred the 2000 race when a multi car pile up on the first lap saw car parts flying everywhere and a loose wheel landed on a marshall, killing him almost instantly.

Michael Schumacher went on to win the event and many fans will remember the emotion he displayed during the post race interview. A mixture of grief over the marshalls death and realizing he had achieved the same amount of victories as his idol, Ayrton Senna, saw a very rare display of tears.