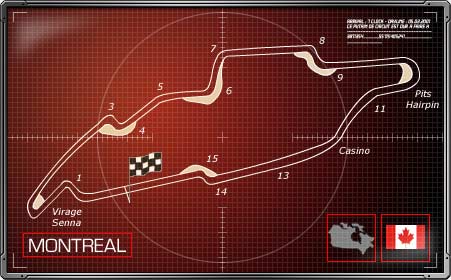 Track Info:
Past 15 years Winners:
Length: 4.361 km

Nb of Laps: 70 (305.270 Km)

Best Lap: J. Montoya - 1'15''960 (2002, Williams BMW)

Record Pole: J. Montoya - 1'12''836 (2002, Williams BMW)

2002 Pole: J. Montoya - 1'12''836 (2002, Williams BMW)

2002 Podium: M. Schumacher - D. Coulthard - R. Barrichello

Informations:
AC l'Ile de Notre-Dame
Comptoir Post. Centre Duvernay
C.P.41014
Laval-Quebec H7E 5H1-Canada
Tel : +1514 878 3771
Fax : +1514 878 3770


2002 : M. Schumacher (Ferrari)
2001 : R. Schumacher (Williams)
2000 : M. Schumacher (Ferrari)
1999 : M. Hakkinen (McLaren)
1998 : M. Schumacher (Ferrari)
1997 : M. Schumacher (Ferrari)
1996 : D. Hill (Williams)
1995 : J. Alesi (Ferrari)
1994 : M. Schumacher (Benetton)
1993 : A. Prost (Williams)
1992 : G. Berger (McLaren)
1991 : N. Piquet (Benetton)
1990 : A. Senna (McLaren)
1989 : T. Boutsen (Williams)
1988 : A. Senna (McLaren)



The Canadian Grand Prix was moved to Montreal in 1978, as Mosport Park was thought to be outdated and too dangerous. It was built around the site of Expo 67, and it is a mixture of street circuit and permanent road course. Downtown Montreal is only a stoneís throw away.

One look at the circuit is enough to tell the story. This track breaks many a car. The first chicane catches out even the best of driver, then there is a kink leading into the Senna hairpin, which leads the left-right "s".

The first race held on this circuit showed a maiden victory for the local hero, Gilles Villeneuve. In 1982, the track was renamed in his memory, and saw tragedy when Riccardo Paletti was involved in an opening lap accident, running into the back of Didier Pironiís stalled Ferrari, an accident that claimed Palettiís life.

The strangest finish ever remembered at Montreal was when Nigel Mansell was leading, and celebrated a little too soon. He coasted to a halt and stalled the Williams, allowing a very surprised Nelson Piquet to win his last victory for Benetton.

Michael Schumacher raced to victory in 1997 when the race was shortened because Olivier Panis crashed his Prost, breaking his leg. In 1998 Michael Schumacher won the race that was referred to by many as a Formula One demolition derby as there was drama from the opening lap. The race was red flagged after Ralf Schumacher stalled his Jordan on the grid, causing confusion, then as the cars came into the opening chicane, Alexander Wurzís Benetton, cut across the grass, jumping over Jean Alesi, before rolling twice. This accident saw 4 cars off the track. Trulli, Alesi, Herbert, and of course, Wurz.

1999 saw three world champions come unstuck when the all lost control at the final turn. Damon Hill, in his last Canadian race before retirement, Jacques Villeneuve for BAR and Ferrari driver, Michael Schumacher. Mika Hakkinen went on to win the event, however Michael led home a Ferrari one two in 2000 with Benetton driver Giancarlo Fisichella completing the podium.