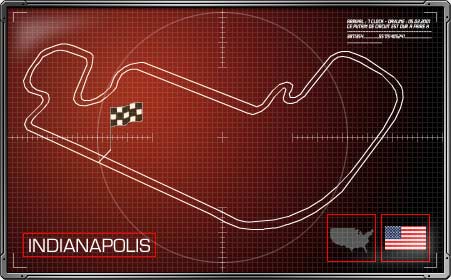 Track Info:
Past 3 years Winners:
Length: 4.192 km

Nb of Laps: 73 (306.016 Km)

Best Lap:R. Barrichello - 1'12''738 (2002, Ferrari)

Record Pole:M. Schumacher - 1'10''790 (2002, Ferrari)

2002 Pole:M. Schumacher - 1'10''790 (Ferrari)

2002 Podium:R. Barrichello - M. Schumacher - D.Coulthard

Informations:
United States Auto Club
4910 West 16th Street
Indianapolis-Indiana 46224-USA
Tel: +1317 247 5151
Fax : +1317 247 0123
2002 : R. Barrichello (Ferrari)
2001 : M. Hakkinen (McLaren)
2000 : M. Schumacher (Ferrari)















Prior to the 2000 event, the last time a Formula One Grand Prix was held in the United States of America was back in 1991 when it was held in Phoenix. The late great Ayrton Senna claimed victory in his McLaren on the 81 lap long circuit.

The year 2000 saw the F1 circus return to America as they took to the revamped Indianapolis Motor Speedway. The circuit was constructed from the famous oval that plays host to the NASCAR Brickyard race and the Indy 500 and the new layout is now just over 4 kilometres in length.

In the beginning of the Formula One World Championship the Indy 500 counted to the drivers overall placings in the driversí title, but this came to an end after Jim Clark and Graham Hill won back-to-back Indy 500s for the Lotus team.

The new circuit utilised the existing oval including the main straight and turn one, the cars running in clockwise direction. Additional sections were constructed in the infield to create the type of circuit the F1 cars are used to driving on.

In a race that was completely new to all 22 drivers, Ferrari driver, Michael Schumacher dominated the event from start to finish. He led home a Ferrari one two for the first time on the new circuit, continuing his domination from early in the season. Up until this race, McLaren driver, David Coulthard was still in with a chance of victory, however he was taken out of contention and was forced to watch his dreams of taking the drivers championship vanish.