The final part insight into strategy looks at how teams work on race day itself. This begins with one final morning practice session, called Warm-Up, when the cars will usually run in full blooded race set-up throughout the half an hour of track time they are allowed.
It is not only a time to shake out the gremlins ahead of the approaching battle, but it is a valuable opportunity to size up the opposition. As each team is analysing its race speed, rivals can gauge if the qualifying performance will be reflected in the race on a much heavier fuel load.
"The aim is to run as little as possible for reliability reasons," says Renault's executive director of engineering Pat Symonds. "But sometimes we have to bed-in tyres or things like that. Very few changes are made to the set-up if we can help it."
Radical changes on a Sunday morning are a sure sign of a team at sea and confused on set-up - or one that has lost session after session with reliability problems or accidents.
"The times of our rivals give me a clue as to their strategies, and we can adjust ours accordingly," adds Symonds. An old hand at the strategy game, he knows every little detail now counts, and the team has every nerve and fibre straining to pick up the slightest clue that might turn a pointless race into a podium finish.
And so to the main course, the reason for all the effort and calculation, the Race. "Obviously our drivers know their strategies before they start but they are not set in stone and can change according to the circumstances. At any moment we might adapt them according to how thing are unfolding," Symonds remarks.
Again the computer plays a large role in the action, but just how big a part is not appreciated by the giant worldwide audience. Each Renault R202 records 500 channels of data: 200 for the engine and 300 for the chassis. From these, thousands of different parameters are calculated.
With recent changes in the rules two-way telemetry was allowed in 2002, such as the subtle engine changes that rescued David Coulthard in the Monaco Grand Prix and allowed his unit to survive to the finish. Although Renault are working on a synchronised system for engine and chassis for 2003 it is not as if they lack for data now.
There are three types: real time data that monitors vital functions, a high speed download at the end of each lap from a transmitter in the wing mirrors and the car's hard disc, which stores nine megabytes of data (that's the equivalent of War and Peace) every lap, to be downloaded at the next pit stop.
Of course, much is of no immediate use, but as Coulthard found out in Monaco, there are times when it can prove absolutely vital.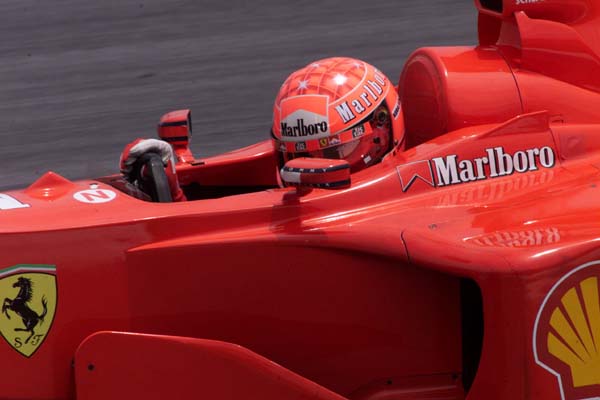 Symonds, though, has a more basic tool to keep his sights on the overall picture. "We've got a programme that enables us to simulate our position if we bring our pit stops forward or back," he explains - just as the team has a programme which enables them to visualise where each car is on the track during qualifying.
But every human being will be pleased to hear the role of mankind has not been calculated out of strategy just yet.
"Computers use key data such as fuel load, fuel consumption tyre wear, the handicap of running with an extra 10 kilos of fuel and the pit lane length etc to calculate the ideal option. But nothing can replace experience when it comes to improvising if a driver finds himself in traffic. The computer doesn't understand the psychology of our rivals. I do!" Symonds adds.
So next time you are watching what seems to be a simple pit stop at an obvious time in the race, remember just how much effort has gone into getting that driver there, in the right place and at the right time.