It is easy to imagine as Michael Schumacher swoops around the final bend to victory that he has simply climbed into the cockpit, strapped himself in and put his foot on the gas until the chequered flag comes into view.
In fact 17 times a year Sunday's action is the culmination of strategy and planning that has evolved days, weeks and even months before. Grand Prix races these days are as much a game of chess as they are a test of outright muscle.
Where once the driver was the only arbiter of vital decisions that made the difference between 'hero' and 'zero', he now has to rely upon a master tactician on the pit wall backed up by a legion of engineers and their computers. One by-product of the problems with overtaking is that the brains behind each team has been forced to explore every crevice of performance for an extra edge.
Strategy in all its forms has never been more important than it is today. Even the mighty Michael Schumacher, with his five world titles and record number of wins, admits he wouldn't be where he is without the tactical genius of Technical Director Ross Brawn.
Where it was once quick thinking and good old-fashioned cunning that won the day, today a victory usually requires more than just the human mind, lots of guts and a right boot planted permanently on the floor.
"Strategy is basically a question of maths," says Renault's Executive Director of Engineering, Pat Symonds. While Mike Gascoyne, as Technical Director, designs the car that Jenson Button and Jarno Trulli use in 2002, Symonds is the one who orchestrates events once the team arrives at the circuit. When the lights go out he is Renault's arch tactician.
"Part of the process is based on pure logic," he adds. "When a car leaves the pits it is heavy with fuel and its tyres are new. As it gets lighter the lap times come down. Then as the tyres begin to go off the times start to get slower. It is theoretically at this precise moment you should choose to pit."
That is the often seen and well-documented part of a process that has started before the cars have even been put in the packing crates for Melbourne, Malaysia or Monza at a desk at the team's factory at Enstone in England.
"We input race data ranging from the specification of the cars to the characteristics of the circuit," says Symonds. "The programme then calculates the basic ideal strategy."
Knowing that things are rarely that simple they always have to have a Plan B. "We also look at how two or three other options would work in theory," Symonds explains. "This is a key step since the weekend's programme is established as a function of these results. For example the amount of fuel carried on the cars during Friday's free practice is determined by this initial simulation, although our experience of previous Grands Prix is also taken into account."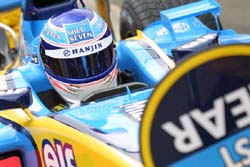 In fact the planning has actually started way before that - even as early as the previous season. The regulations dictate just how big the fuel tanks can be and so those design decisions, which have a direct influence on strategy, have to be taken as early as May or June the year before that car hits the track.
"Strategy flexibility is decided by the size of the tank, which has a direct influence on the car's wheelbase. This dimension, in turn, has an effect on the handling of the chassis," comments Symonds.
Spectators may want to see cars battling against the clock on a Friday rather than the current pattern of so called 'untimed practice' (which is timed really) or 'free practice' but its function for laying the groundwork for a Grand Prix weekend is as vital as Saturday qualifying.
"Our drivers have a number of tasks to carry out during free practice, the first being to establish a competitive race set-up," adds Symonds. "This takes a degree of skill given that they are not driving flat out, and will not do so until Saturday qualifying."
"The next job is to evaluate the two types of tyre available for the weekend and to select one of them by comparing the data over both a single lap and long runs. If we don't hit any technical or weather problems then the final decision on tyre choice is made Friday evening. This is a key strategy because it governs Sunday's strategy since the two types of tyre have different endurance and performance characteristics."
On Saturday morning everything steps up a gear. There are only two 45-minute sessions remaining before the crucial one hour of qualifying. While what has gone before is largely about race set-up, the focus turns to single lap speed. Qualifying may not bring any points with it but starting sixth as opposed to 16th can make all the difference to the final result on Sunday.
"If we've had a good Friday, Saturday morning's work will be concentrating exclusively on qualifying set-up," says Symonds. "The demands are completely different because the car is set up for maximum performance over a single lap which makes it more difficult to drive. Grid position and the cars in front and behind of us all have an influence on strategy."
One example is Renault's sparring partners for much of the season - McLaren. Although they have a vast source of experience to draw upon, their reputation as "one-stoppers" brings with it a certain mind set. Plus it is acknowledged in both camps that Renault have one of the best launch control systems on the grid, in itself worth a place or two in the first few hundred yards when working at its ultimate.
Before the team looks ahead to race day, though, it has to make the most of that hour from 13.00 to 14.00 on a Saturday. "Even during this session strategy is important," says Symonds. "You have determine what is the best moment to send the cars out taking account of track conditions and who else is on the circuit."
As you might expect in Formula One™ racing, the might of the computer is brought to bear again. If you have ever seen the timing sheets, they are a dizzying array of figures recording every lap by every driver. As if this isn't enough, each lap is divided into three split sections.
While the three splits are useful to analyse a car's strengths and weaknesses, it also serves, by chance, a secondary function of providing the information of exactly where each car is on each lap. "I use a programme developed by the team that enables me to visualise the precise position of each car on a map of the circuit," Symonds explains.
In other words it plots the gaps that enables the Renault drivers to find crucial clear track amidst the to-ing and fro-ing of 20 cars and set their best possible time with few cars getting in their way.
Once this has been accomplished they must work late into the night preparing the last final eventualities for race day.