Any Formula One™ racing fan would love to work within the hallowed confines of the sport that they follow passionately, and because of this I receive many emails asking the best route into this industry.
Unfortunately, there is no sure-fire answer that I can give you. Qualifications, experience, dedication, persistence and a little bit of luck ultimately combine to bring most people into the F1™ fold, but there is no one method of winning a job in Grand Prix unlike in other careers.
Therefore, I thought who better to give you advice than those already working in F1! Below is a small selection of personnel from the many employment fields available, describing how they found themselves where they are today.
Norbert Kreyer, General Manager of Toyota's engine department, has had a long and varied career in motorsport. He studied mechanical engineering at university and on departure was employed by Zakspeed to run their workshop.
The German was then recruited into engine design, and in 1983 was charged with designing the team's debut F1 engine. "It was December 1983, and I was thinking how we could do this. The idea was to start at the 1984 Nurburgring race, but we did not make it until Estoril in 1985 with Jonathan Palmer!" Kreyer recalls.
He spent six years in F1 in charge of Zakspeed's engine department but after a difficult year with Yamaha in 1989 decided on a change, and so the following season began a two-year position at Toyota as General Manager for the Rally engine.
Between 1992 and 1997 the engineering graduate then worked for Volkswagen and Ford. He eventually rejoined Toyota after a call from Ove Andersson and was with the company when they decided to enter Formula One.
"I still remember when we put our first engine on the dyno," he remembers. "It was September 12th 2000, at 21.00. I was just so, so nervous standing next to Ove, behind two operators. And here I am now!"
Another senior technical post is held by Sauber's Technical Director Willy Rampf, and his experience shows that who you know can count as highly as what you know. "It goes back a long time but it was my old friend who got me into F1," he stated. "I used to work for BMW under Leo Rees, who was originally the designer for Sauber. He joined Sauber in the mid 1980s, while I was still at BMW developing road cars and motorbikes."
"Then in 1993, when Sauber was in Kyalami, I was also at that time working in South Africa, still for BMW, and Peter Sauber invited me to see the race! It was my first F1 race and I was very impressed by the technical side of the things. I did feel then that I would like to work in F1 one day."
"Six months later Peter phoned me to say he had a job for me. It was track engineering for the test team. I started with the test team in 1994 and then Heinz-Harald Frentzen joined, one situation led to another and I ended up engineering Frentzen for the races as well."
"I did this for three years, but we hit a bad patch when we had Larini and Fontana, so I decided to go back to Munich [BMW] and did the Paris-Dakar motorbike project."
"That was fantastic because motorbikes have always been my love and in January 1999 we won after 14 years of trying! Then at the end of 1999 I went to see Peter, but I wanted more than race engineering. I was promoted to technical director and now I am responsible for 150 people and am really enjoying it!"
Jacques Villeneuve's senior race engineer Jock Clear also found that this combination of skill, experience and contacts led him into, and around, the F1 paddock. He studied mechanical engineering at university (one of the best starts to a motorsport career in a team's technical department) before taking up his first post as a design engineer at Lola in 1988 - an opening he saw advertised in an engineering magazine.
The following year he designed gearboxes and suspension before moving to Benetton at the end of the season. His tenure at Benetton allowed him to meet influential designers such as Rory Byrne (now at Ferrari) and John Barnard, before he left to join Leyton House in a similar capacity under another respected designer - Gustav Brunner.
In 1992 he worked as a designer at Lotus, and was sad when the project quickly came to an end. However, he did not let this set-back stall his career. "I remember the factory closed on Wednesday and I rang Patrick Head up on Saturday and I got a job! So from 1984, for four years, I was with Williams. It was fabulous working for Frank and Patrick," he reminisces.
He then left with his charge, Villeneuve, to join the fledgling BAR team, where he currently works. He describes his job as senior race engineer as being technically responsible for Villeneuve, and can often be seen in deep consultation with the French Canadian as they work to perfect his car for the races. Indeed, he has developed such a bond with the driver that they also occasionally holiday together.
Away from the teams, of course, is another, very different, range of jobs in the media. British TV reporter Louise Goodman proves that a passion for F1 is not necessarily what propels people into the industry.
"My job now is basically general reporting. I report from the pits, the paddock and I also prepare feature stories too," she explains. "I just fell into F1 in 1987. I was responsible for the Camel account for Lotus, working for Tony Jardine (boss of respected motorsport public relations company Jardine PR and also a studio pundit on British television)."
"I had worked for him in powerboat racing in 1986 for a few months but I had always intended to travel around the world, which I did for a year and a half. Then I met up with Tony in Adelaide, Australia, in 1987."
"I had been hitchhiking so I literally turned up with a backpack in the F1 paddock! Then Tony and I had just 25 days to prepare the launch, press pack etc, for the account!"
"I think I did 34 races in 1987 and 1988. At that time Camel was on Larrouse, Lotus and Tyrrell. Then in 1989, when we got contracted to BP, I became full time for BP [who were] with Leyton House."
"I had known about F1 before but not much, but I generally liked cars, and I have competed in some races myself [Louise has participated in some national-level rallies]. Well, I am still here, and it kind of sucks you in!"
For well-known freelance journalist Eric Silbermann it was his passion for racing that took him down the road to Formula One. "I wanted to be a racer and I did some racing at national level but I was never good enough. So I started off as a tyre fitter in rallying in 1971. That was my first taste of true motorsport," he says.
"I only did that for a year and from 1972 I landed myself a co-ordinator job with Castrol and that lasted 3 years. I then went onto to do some PR work for Central Tyres on a freelance basis until 1980. In 1981 Austin Rover offered me a job as a motorsport manager, which meant I was running the world rally team."
"Then my first break in Formula One was with Larrousse in 1987 and I was there as their team manager. Then from 1988 until their retirement in 1992 I was Honda's press officer."
"I quite enjoy being freelance as there is so much more freedom. However the most enjoyable moment in a race weekend is 13:55 on Sunday. The build up to a race is really exciting, but the rest... just forget it! I did not really set out to get involved in F1, but I studied French at university and my French connection got me into this."
Should words not be your idea of fun, how about pictures? John Marsh, with agency Bothwell Photographic, explains his course into F1: "I started taking pictures with a borrowed camera when I was about 10, taking landscape pictures mainly as I was living in Norfolk at the time and there was loads of stuff to take. I became interested in motorsport - bike racing - when we moved to Leicestershire close to Mallory Park and the first event I went too was the transatlantic trophy round with Barry Sheene riding!"
"I didn't connect the two i.e. taking pictures at a motorsport event until I went to the 1980 GP at Brands Hatch. I had a 200mm lens and a cheap Practica camera and was quite pleased with the pictures from the public areas. Over the next few years I started going to more car races, mainly the bigger events at Brands Hatch, and then in 1986 I went to the Formula Ford festival."
"I had a few crashes [on film] from this event and knew there was a winter series starting, so I sent some pictures to Brands Hatch for their programme. They phoned up and asked if I was going to attend the winter series, if I was, could I send them some pictures. So I did a deal for my first media pass - they let me in, I gave them some shots!"
"I kept this up in 1987, then I wanted to concentrate on the BTCC, so instead of going just to Brands, I started to follow the series all over the UK, and started working professionally, with proper clients, cameras and lenses - that cost a fortune to buy!"
"In 1992 I started working for a magazine that was being published at the time, concentrating on UK motorsport. I did all the BTCC photos for them. They also published an F1 magazine, Chequered Flag, which they used agency pictures for. In 1993 they decided they wanted their own photographer at races and asked if I wanted to do it for them."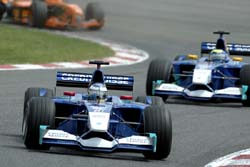 "My first full season of GP racing was 1994, starting in Brazil where I developed chicken pox on the first day and could only walk at a snail's pace as I had blisters on every part of me that rubbed - arms, legs, feet, tongue! And you thought F1 was glamorous!"
"I had to miss the next race in Japan and returned for the first European round, San Marino. The worst thing about working for the magazine was that they didn't have a budget to employ me, as such. They could only pay a fee which only covered the cost of the travel/hotels, but I took it anyway."
"I stayed with them for a couple of years, but they were finding it harder and harder and at the end of 1995 I was offered a staff job at an agency where I stayed until 2000. I then returned to the bear pit of freelancing and now work with Bothwell."
Dedication and patience can also pay off if you want to work in this field, it is quite difficult to get into and making your reputation with a company that has motorsport ambition can be a bonus, although may require a long wait before you make it into the core of the sport. As Eiichi Ohmura, PA to Honda's HRD president and PR & Marketing Manager, found out:
"I was crazy about cars, any cars, and when I was in the United States with my parents (based in New York) it was my dream to go to the Indy 500, but my father could never take me for one reason or another."
"Then he suggested that we could go to the Formula One™ race in Watkins Glen. I was a big fan of Jim Clark and Graham Hill so I jumped at the opportunity and I went to my first F1 race in 1967. I saw a car with the Japanese flag, which was driven by John Surtees, and that really stuck in my mind."
"I never wanted to become a racer or an engineer but I realised I wanted to be involved in F1 somehow. I studied Portuguese at university, thinking Brazil is a country with a big potential, and then afterwards went straight to Honda. I thought if anyone was going to go racing, it was Honda!"
"At that time they were far from being involved in four-wheel racing, but I was placed in the sales department in 1979 (the first time I was given a ticket to go to F1 was in 1988 for Suzuka, I was at the Hairpin!) Then I was transferred to Australia, but still in the sales department!"
"However I was finally given a break in 1992. You know, every year in Honda we submit "an essay" describing our individual ambition within the company. The Formula One project was the one I had been writing about for the past 20 years!"
"I was told to return to Japan in 1991 and finally I was going places in the motorsport department. Then in September 1992, Honda announced its retirement from F1 (in Monza). I remember preparing the press release for that. How ironic it was! Then I did some work on the Le Mans project, but in 1997 the F1 dream came back again and 2000 Melbourne was my first F1 race. It was a long wait for me!"
Formula One, of course, offers many other careers - in PR, Marketing, Finance, Hospitality, as a mechanic, as a truckie, general office work back at the teams' factories and many other posts in the design and manufacture departments - but it would be impossible to speak to everybody for the purpose of this article.
Some courses can help kickstart a racing career, obviously, although there are few dedicated entirely to a career in motorsport. One that has come to our attention is Cranfield University in England, which runs an MSc in Motorsport Engineering and Management.
As with all further education it does not guarantee a job and can only be useful if it fits the individual's requirements. So make sure you research the full breadth of courses available before committing to one, and as more courses come to our attention we will add their details to the article.
Check back occasionally as we intend to update this article as and when I can.