A war only exists when there is a prize to be gained between competitors. Formula One™ racing's tyre suppliers Michelin and Bridgestone are at war and their prize is the championship title. Each manufacturer has a distinctive way of approaching the war but their goal is the same.
Michelin faced a brand new challenge when they returned to F1™ racing in 2001. They had mastered the slick tyre technologies of the seventies and eighties, but producing grooved tyres was a completely a different ballgame.
Pascal Vasselon, Michelin's technical supremo, knows this only too well: "As an engineer, it was such a challenge. Introducing grooves to racing tyres, it added a new dimension to the whole matter. The current rules are made to limit the efficiency of the tyres and by adding grooves, the tyres definitely lose performance. However it is same for everyone."
"Now we have realised that slick tyres were so easy to make. We had to start with a blank sheet of paper this time, and we are still learning a lot. We still have not quite optimised the art of grooves yet."
And it was not only the technology that had changed since Michelin pulled out the sport in 1984. "The challenge itself of creating race tyres that are quick and consistent is the same, but there is a big difference in the professionalism of the people involved," said Vasselon.
"Everyone is so concerned to minute details. Whether it is engine, electronics, chassis, it does not matter. They all take part in such high level, and the place is full of extremely highly trained people. There is a big time gap to fill because we have not had this experience."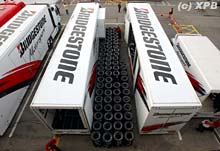 As the success of the Ferrari-Bridgestone combination has shown, the tyres and the car have to be one entity. Chassis, engine and gearbox had already become very integrated, and now tyres too cannot simply be black, round things that are just attached to the car.
"We have to work in fine details," said Vasselon. "Even the slightest change makes such a difference. We are facing different criteria, more advanced, more finely tuned, and we have to work a lot harder. We have the same attitude towards research and approach, but the way to achieve these criteria is different."
In 2001 Williams were the leading Michelin team. This year Michelin's ambitions have been boosted by the addition of another top team to their camp, McLaren. But is it better to supply one top team, or is sharing the workload between two more productive?
It is a very debatable question. Ferrari's Ross Brawn openly admitted that he had been relieved to see McLaren leave the Bridgestone camp. However, Vasselon thinks otherwise and believes that having two top teams is preferable to one - and that three is even better.
"Not only two, look at Jaguar," he said. "I could see the improvement from Sunday warm up of the Hungarian Grand Prix. Spa was not bad and in Monza it finally proved their potential."
"I really think our situation is better. Maybe in the short term their (Bridgestone's) way is effective, but in the long term, our method is good, I believe."
"We are not in for only one season. We have to have some guarantee to develop in correct direction. The only way we can achieve that is through testing. We simply rely on testing. The more cars there are the better knowledge we have. What happens if Ferrari has a bad car and you don't realise it? It is a big risk. By testing different cars, we gain experience and knowledge, hence more data."
"I really don't believe that having two top teams will confuse the development. They may have slightly different characteristics but our partners' cars all weigh 600kg, are similar in behaviour, so if our tyres are good on one car, they often are good on everyone else's. We have demonstrated that."
Every year lap records are broken, and pole times gets quicker. There is a constant fear among the teams that FIA intervention is imminent in order to quell the rising speeds. In the past the sport's governing body has been known to target tyre manufacturers rather than constructors or engine manufacturers.
This doesn't worry Vasselon. "Our job is to make the tyres faster. It is not our job to decide when it is too fast and therefore limit it," he said.
In the days of slicks, to make fast tyres, the compound had to be made softer and softer and that was something Goodyear excelled at. In the era of the grooves, that philosophy does not quite work. Having grooves means the compound has to be made harder to withstand the lateral forces. Both Michelin and Bridgestone share a similar philosophy where there is more meaning to tyres than just compounds.
Tyres are the only things that can make such huge and instant differences to lap times. Engines cannot. Cars cannot. This year Ferrari and Bridgestone got it right. Next year it could be Vasselon and Michelin.