With each Formula One™ racing team running two virtually identical cars, a commonly asked question is how does one tell the difference between their two drivers when they're out on track.
Each driver has a number which is featured somewhere on his car. However, in amongst the car's livery and numerous sponsor logos, this can often be difficult to spot. One definite exception is Michael Schumacher's Ferrari, on which the number one, denoting his world champion status, is always clearly displayed.
But there are additional indicators that are used to differentiate between cars. These vary from team to team. For example, at Sauber Nick Heidfeld's car has red rear-view mirrors, while those of team mate Felipe Massa's car are yellow.
However, the method most commonly used by teams to tell their cars apart is different colours for the T-shaped camera housing that is mounted on top of the roll-over hoop just behind the drivers head. The benefit of this is that is easy to spot from most angles, even when a driver is in traffic.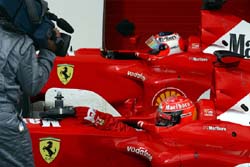 At Ferrari Michael Schumacher's is red and Rubens Barrichello's black. At Jordan, Giancarlo Fisichella's car carries the red mounting, while at BAR it is Jacques Villeneuve's. At Minardi, as well as a red camera housing, Alex Yoong's car also has red tips to the outer edges of its front wing.
At McLaren it is David Coulthard's car that carries the red camera housing. And at venues where tobacco advertising is banned, the team also replace their main sponsor logos with the words 'David' and 'Kimi', making driver identification joyfully straightforward.
Learning to spot such differences is one way to tell a team's drivers apart. However, theses differences are subject to change. An easier and more reliable method is to get to know each driver's helmet design. For help with that, take a look at the driver helmets page.