In conjunction with hard physical training, drivers must also endure the rigours of mental training. Physical strength derives from mental strength and although drivers never fight, literally, face to face as do the boxers that we compared them to in the last article on fitness, there is a definitely a high degree of psychological warfare.
"I could never put up with the pressure which they exerted on me when I was there," Ricardo Zonta said after his two-year stint at BAR. "The team was geared around Jacques [Villeneuve], and he knew it, and unless you had been well prepared beforehand you just cannot work there.""
Another driver who struggled initially against his team mate was Rubens Barrichello, when he partnered Eddie Irvine at Jordan from 1993 - 1995. The Brazilian has since admitted that the Ulsterman got the better of him psychologically, something his team also knew.
"When he was at Jordan and Eddie came, Rubens was done in. He just could not accept it. He could not accept Eddie was so fast and so carefree about it," recalled one Jordan member.
When it was announced that he would drive alongside the then two-time world champion Michael Schumacher, who is renowned for his mental strength, Jordan team members admitted their concerns that he would founder again.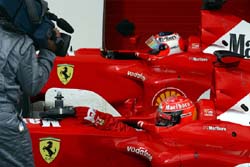 However, the Brazilian has proved them all wrong, taking his victories at the wheel of the F2001 and F2002, and begins his fourth season with the Scuderia this year.
It is possible that he followed a similar strategy to Irvine, coincidentally his predecessor as Schumacher's team mate, in that he ignored the pressure of racing alongside the talented German and instead concentrated solely on his own performance - using Schumacher as a benchmark rather than a rival to be beaten at all costs.
However, that is something he will not reveal. The psychology between team mates is one of the most important aspects to acquiring mental strength, as it can have more far-reaching effects than the direct rivalry between the two drivers. As Johnny Herbert found out to his cost at Benetton.
The Englishman managed his career-best result at the team, two wins and fourth in the Drivers' FIA Formula One World Championship™, but was clearly rattled by the fact that his team mate M Schumacher was treated as the lead driver, and in fact went on to win the championship for a second consecutive year. His inability to adjust to these circumstances gradually lost him the sympathies of those around him, and he did not drive for Benetton the following year.
Apart from this, the most obvious reason for being able to keep a mental distance from any psychological tactics employed by your team mate is that this energy is far better spent on driving to the best of your ability.
There is no such thing as a mental conditioning pill, but you can train your mind. This teamed with the right support structure equips the driver to excel in all areas. When the body wants to give up, it is the head which has to persuade the body to continue. Training, both mental and psychological, enables a racer to take his endurance to the limit and so perform to his best - even M Schumacher will admit to this.
"You have to be focused. You have to be able to concentrate for a certain amount of time," he has said. "People might think we drivers do nothing between race weekends but I spend a lot of time in gym. You have to be physically fit to cope, and mental fitness comes with it."
Drivers have to learn to detach themselves from their activities outside the cockpit and simply concentrate on what they are supposed to do, which is to drive as fast as possible. This is helped by their team of close friends and helpers - from their partners to the person who holds their umbrella and helmet on the grid to their managers, this support structure helps a racer concentrate only on producing the best he can.
But get it wrong and this support structure can be more of a hindrance than a help. Take managers for instance - Michael Schumacher and Jacques Villeneuve have both benefited (mainly financially) from their canny business gurus - Willi Weber and Julian Jakobi.
However, it has been known for drivers to find that their management teams have had an adverse effect - one example being Damon Hill who saw a difficult relationship develop between his manager and team. He drove elsewhere the following year. Jenson Button is another case - his managerial structure had to be rethought after a couple of seasons in the sport with mixed results, resulting in him signing up for new guidance last year.
"It is nice to have someone who is on your side, and it is vital that those people take away all the extra bits of work outside cockpit so that I only have to concentrate on my job, which is to drive fast" says Renault's Test driver Allan McNish, who is currently managed by Jakobi.
"It is a mental war [in Formula One racing]!" he continued. "You cannot afford to be beaten by that. When we actually look in the eyes of a driver, it is always like searching for clues, trying to psych out the other guy."
"We do not face each other in a ring like sumo wrestlers. However a driver can influence the team to make it more advantageous, and it is then entirely up to him. There is less fun, in a way, but any competition at high level is like that."
"Here in Formula One, you are an individual and you have to set up a car to suit you, I mean just for you. If there is extra information from your team mate that could be of benefit, then you might get that too, as long as the condition allows it!"
"Whereas in Group C [sportscars] we all work together for the same car. Whoever finds any step forward would be beneficial to us all, so there is definitely more teamwork there."
"In Formula One, it is a team work too, but there is an invisible barrier between the two cars. There is a degree of rivalry. As long as it is a healthy one, I think it is ok. If it gets political, it is then up to the mental fitness of the driver, isn't it?"
So mental fitness plays several roles - not only does it give the driver the self-confidence and determination to drive at their best, it also supports their physical fitness when racing in gruelling conditions. Finally it allows them to successfully negotiate the politics and tactical games all top sportsmen and women must successfully navigate if they want to be the best.
In the next article in this series find out how nutrition helps drivers stay in shape.