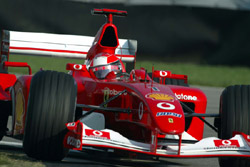 F1 racing is at the top of the motorsport hierarchy. Below this series, there is a wide range of lower formulae, where many young and talented drivers are all chasing the same goal, and that is to be 'a Formula One driver'. Life as a young driver has become increasingly difficult as time goes by, due to the many facts that he must take into consideration before he can start his career.
It is very important before a driver starts a season, that he has a structured career plan, and this should be a chosen route that he believes will take him to the heights of Formula One. Gone are the days of a "structured ladder" approach to reach Grand Prix racing, so it is of tremendous importance that you consult as many people, namely individuals involved in the motor racing business, in order to obtain a wide spectrum of opinions on how other people view the hierarchy. This may not change your overall view, but it gives you an indication of how other people see your career developing.
So what is the 'desired' route to Formula One racing? Many of the modern day F1 drivers started their careers in karting. Karting is a very good foundation, because from a young age it gives you the experience of both race craft at the highest level, and an insight into what it takes to deal with the highs, lows and general pressures of racing in an international arena. From a Public Relations (PR) point of view, if you're successful, it will also get your name on the map. Karting may be the route taken by stars such as Michael Schumacher, Jenson Button and Jarno Trulli, but it is by no means a necessity, just an added source of a wealth of experience.
In relation to a move into car racing, it is important to be aware of PR. A driver should take into consideration the amount of media scrutiny that he or she will be exposed to in your chosen category. The press will not choose to realise your full potential unless you are winning in the recognised formulae. At the moment for example, British Formula Ford is one formula that is acknowledged world-wide as a place to be winning races.
A lot of the Formula One teams have a large interest in the championship due to the history of talented Formula One drivers it has produced, namely Ayrton Senna, Johnny Herbert, Damon Hill, David Coulthard and Jenson Button to name a few. A successful year in Formula Ford provided these drivers a strong stepping stone from which to move up into Formula Three the following year.
Over the past few years, there has been an influx of drivers graduating straight from Formula Three to Formula One - Giancarlo Fisichella, Jenson Button, Jarno Trulli and Takuma Sato being among the most recent. It is definitely becoming a preferred route, rather than enduring one or two years in Formula 3000.
It goes without saying that you must concentrate your efforts on winning, so being in the right formula, with the right team and at the right time is imperative. Unfortunately, the top teams are always in high demand and inundated with quick drivers, all with full budgets to go racing. Even though you may be that little bit quicker, money is very important in the motor racing industry, because although the teams would like to win, they are also running a business.
So, how does a driver secure the funds to go racing? Sponsorship is the word on the tip of many people's tongues, and they are right, but there are also other ways. An interesting approach could be investment in a young star. This scheme allows a prospective backer to effectively buy a percentage in a driver. This will ensure a cut of his overall earnings, but is of course subject to him earning an annual income.
The numbers of businessmen/women who hold a passionate interest in the world of motor racing are few and far between. However, there are business people who have never had the chance to be involved in motor sport, but would like to be. For these people, the term 'investment' provides the opportunity to become more closely involved in a young driver's career.
The reality, though, is that gaining the necessary funds to go racing is very difficult, but it is by no means impossible. Be in the right place, at the right time and with the right people behind you, and it is feasible to make your way to the top.