As Formula One™ motor racing steps up a gear every season, so driver fitness becomes a more and more important part of the overall package. Many outsiders cannot see the need for F1™ racing drivers to regard their stamina in the same light as top athletes - after all they only drive a car don't they? - but training programmes have been an integral part of professional racers' regimes for years - and never more so than if you competed in the top echelon of open wheel racing, Formula One events.
You often hear drivers quoting milk or water as their preferred drinks, and placing pasta at the top of their favourite food lists. There are reasons for their liking of these items - they are all part of a fitness regime. To build a fit body, one needs good nutrition as well as a physical programme. The days of James Hunt's chain smoking and partying are over.
Although training is limited during race weekends, in between events drivers do not go home and watch TV - instead they train with their physios up to 4 times a week. Their physical routines consist of a mixture of cardiovascular and resistance exercises, utilising a wide range of methods to bring racers to their peak fitness levels.
Gym training is of great importance (which quite a few drivers dislike!) to work on muscle strength, whereas cardio work, such as jogging or cycling, is brought in to build heart strength. There are some pilots who also kayak and canoe to increase their cardiovascular fitness (hence Concept 2 rowing machines are currently proving very popular!).
Drivers are required to have strength as well as endurance ability. They have to keep their stamina and concentration for the entire race (which could last up to two hours) as well as having fast reactions to the events unfolding in front of them, and still be mentally fresh enough to debrief team members and deal with the media at the end. They are neither long distance runners nor 100m sprinters. Physios often describe them as "boxers". Both boxers and drivers have incredible amounts of stamina and strength but are also mentally quick.
Cars are faster now than in the past, and as a result drivers are exposed to more lateral as well as front/back G forces. With the advance in aerodynamics, the F1 car nowadays is so adhered to the ground that cornering speed is higher, exerting huge forces on the drivers - and especially to their necks. The cockpits are also smaller, due to demands from the designers, so they are forced to perform in restricted positions. Depending on the shape of and space available in the cockpit, drivers are required to train particular muscles to perform at their best.
The increasing importance of pit stops for refuelling and tyre changes have also changed the shape of the race, which now normally consists of three-part sprints instead of one endurance run. There are a few things that make life easier nowadays, though. With the assistance of electronic aids, the drivers are not required to change gear in the traditional manner or force the steering wheel; gearshifting is done on the steering wheel in the form of flaps and power steering now comes as standard.
Also stopping for fuel means that a driver does not need to calculate his pace so as to look after the tyres. It was often drivers like Alain Prost (known as the Professor in F1 circles for his strategic ability), who could pace himself in accordance to the fuel load he was carrying, that won races but now this pressure has been lifted from our heroes' shoulders.
So how fit are they? Drivers such as Heinz-Harald Frentzen and David Coulthard carry a body:fat ratio of 7% , which is pretty close to that of a long distance runner just before an event. They will also carry more muscle on the upper body, chest and arms, and their neck muscles are trained in such a way to withstand the side forces which are generated during cornering.
They may not need a pronounced six-pack, but their abdominals are completely fat free! More importance is placed on core stability these days, as strong abdominal muscles help posture and can give a well-balanced distribution of strength. They are very lithe in the lower body to fit perfectly into a tiny seat in the cockpit, and you would not find huge bulk of thighs because they are simply not required. With the amount of exercise they do, it is very easy to bulk up muscles but the last thing a car designer wants is a heavy driver, so this is where all the therapists come in - in order to control the amount of training they do.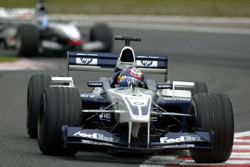 When a young driver first comes to a F1 test, it is often the neck muscles which give way first. There is a machine to build neck muscles, but drivers also find a simple band of elastic which ties around their head very handy. Obviously, though, the best exercise for the neck is driving, and even the most experienced will make room for extra training just before unusual anticlockwise circuits, such as Brazil and San Marino.
Depending on the space available in their cockpit, emphasis can be placed on forearms or upper arms. Today's regulations allow ample space so the driver's entire arm is trained - from shoulder to hand. It wasn't always this way though - in the now defunct Leyton House team the cockpit was so small that Mauricio Gugelmin and Ivan Capelli had to train their lower arms only because that was the only part of the arm that they could move to steer!
Flexibility in the legs is vital too. Most cars now have two pedals, one for accelerating and the other for braking, so each foot is responsible for one action. However, because they are almost lying down in the cockpit with their legs higher than their rear, poor circulation is not welcome as it could lead to numbness in the feet.
Finally today's fitness includes mental exercises too. The steering wheel of a modern racing car is one of the most complicated items on the machine. It has over a dozen buttons and the regulations do not allow teams to preset the settings - instead it is the driver's job to remember to alter the setting accordingly. If a driver is comfortable conversing with the team and making adjustments while driving, the setting change is less stressful. For example, Michael Schumacher rarely makes mistakes but when he does it is sometimes because he is fiddling with the buttons or communicating with the team, although this is still extremely rare!
The next question has to be - has the introduction of two-way telemetry helped this year? It is not easy to say as teams can change the settings on the car anytime, but they have to let their respective driver know what they are going to change! So communication with the driver still plays a significant role. The effectiveness of this telemetry still depends on how good the level of communication is between team and driver.
Drivers must therefore be alert as well as physically fit to enable them to drive on the limit and use all the equipment available in today's sophisticated cockpit - even the humble drinking bottle can cause chaos, so if possible and only if the driver is fit enough (well hydrated), they try not to drink during a race. We only see M Schumacher with a drinking tube inserted in Malaysia or Germany where extreme temperatures are expected.
There is no doubt that all the drivers are physically fit. The difference in results therefore comes from mental fitness, which is no doubt driven by their own personal hunger and determination for success. Being fast is never good enough to be first in Formula One, and together with fitness they have to be able to find the structure, or cocoon, around them so that they can perform to their utmost ability every fortnight.
Check back soon for further instalments of the Formula One driver's search for fitness.