New Limited Edition MS Helmet.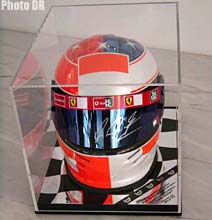 Bell Helmets have announced the release of a new limited edition replica of Michael Schumacher helmet. Called the 'MS Twin', the special edition will feature the incorporation of both of the five time world champion's designs, one side the white format, the other red and there where will only be 70 available worldwide.

"As 5 times world Champion Formula One, we at Bell wanted to do something special," Bell explained. "Therefore the idea of combining both Michael's designs seemed quite interesting."

The helmet comes in its own luxurious plexi-case with the added novelty of a black base decorated by a chequered flag featuring five crowns, each crown representing a world championship year. This will be the ultimate must for collectors worldwide with a retail price of 3,850 Euro, exclusive of taxes and transport charges. Orders are already being taken and the helmets will be ready for delivery before Christmas.