Happy Birthday to Michael Schumacher
34 today!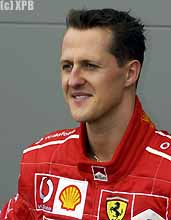 I would like to take the opportunity to wish Ferrari driver Michael Schumacher a very happy 34th birthday. The reigning world champion is currently far removed from the Motor racing world as he holidays in Norway with family and friends.

"We are having a wonderful time here, skiing a lot and also playing a lot of football," he said.

Michael started his career in the Formula Konig series in 1987, a series he dominated to such an extent, that he had the title wrapped up early before moving on to Formula Ford. Here he came second to ex- Sauber driver, Mika Salo in the European Championship, and fourth in the German series. In 1989, he went to the German Formula 3 series, where he finished third, equal with his teammate, Heinz- Harald Frentzen, and just one point behind second place. 1990 saw him dominate this series as well, winning five times and later topping that by also winning the international races at Macau and Fiji.

Sports cars are nothing new to him either, becoming a member of the Mercedes junior team, even winning the round in Mexico City. He drove sports cars again in 91, winning at Autopolis. That year also saw his Formula 3000 debut where he finished second at Sugo, in the Japanese Series. More importantly, 1991 saw him explode into Formula One, his first race driven for Jordan in the Belgian Grand Prix. He qualified seventh, but failed to complete the first lap, due to clutch problems. That was his only race for Jordan, as he was quickly snatched up by the Benetton team. 1992 saw him visit the podium 8 times, including once on the top step for his first Grand Prix victory in Belgium, completing the season third overall with 53 points. He continued with the Benetton team and 1993 saw him win a superb race in Portugal, rounding off the season, fourth overall. Then, in 1994, Michael stunned the Grand Prix world, when he was quicker in the Benetton, than Senna was in the Williams. After Sennas death, Michael seemed unbeatable, even though Benetton were swamped with allegations of cheating. They fought through all the disqualifications and bans, and in the end, he beat Damon Hill to the crown by one point, after a controversial accident at the last race in Australia. Nine wins later, he took the crown for a second time, before moving to the Ferrari team in 1996 where he still remains.

That year, he pushed the unreliable Ferrari to its limits, bringing home three wins that the car didn't deserve. It was more competitive in 97, where he won in Monaco, France, Canada, Belgium and Japan, and he went into the final race in Jerez, with a one-point advantage over Williams's driver, Jacques Villeneuve. Once again, the season finished in controversy, after an accident between the two. Villeneuve raced onto to take the crown, while Michael had his 2nd place in the championship stripped from him by the FIA.

1998 saw a very reliable Ferrari, and a very determined Michael Schumacher. Although McLaren dominated from the start, Michael wouldn't give up, pushing the Ferrari as far as it would go. Winning 6 races for the season, it once again came down to the final race, but a stall from pole position, and a blown tyre, saw his chances of taking the title for a third time vanish.

The 1999 season didn't start that well for Michael, with problems in the opening race, but from then on, he quickly took to the lead in the championship and just as it started to appear that he may finally take the title for Ferrari, tragedy struck at the British Grand Prix where a first lap accident saw him sidelined for months with a broken leg. He watched helplessly as the season went on without him, but returned for the final two races. Although his teammate, Eddie Irvine, narrowly lost out on the drivers title, between them both they gave Ferrari their first Constructors victory since 1983.

The 2000 season saw him partnered with Rubens Barrichello as Irvine moved across to Jaguar and it was undoubtedly the best season of his career. After winning the first three races of the season, it appeared as if the Ferrari ace was unstoppable on his way to glory. However, although mid-season setbacks saw him lose a lot of his lead over his rivals at McLaren, his determination never waned and he went on take his third world title and Ferrari's first driver's victory in 21 years at the second last race of the season at Suzuka, wrapping up the constructors crown one race later in Malaysia.

2001 was a year that saw the Italian team and Michael dominate from round one in Australia to the season finale in Japan. During the course of the 17 events, Michael broke numerous records, surpassing Alain Prost's total of 52 GP victories and wrapped up his fourth world title in Hungary with four races left to contest.

Breaking record after record in 2002, including a record equalling fifth crown after just eleven races and ten wins in one season just to name a few, the dominating performance will see Schumacher begin the 2003 season in what is expected to be yet another dominating Ferrari and the securing of his sixth world crown.

Happy Birthday Michael!